Shiny
October 13th, 2012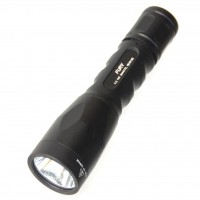 I think I've turned into a flashlight snob.  When I was a kid, those disposable flashlights with the batteries you couldn't change were just fine.  When I started doing theatre in high school I discovered the Mini Maglite and I thought I'd died and gone to flashlight heaven.  They were bright (compared to the disposables) and you didn't have to hit them to get them to stay on.
Years later a friend introduced me to Surefire flashlights.  They put my old Mini Maglite to shame.  They're bright (for real this time), they're tough, and they do neat tricks like shine in multiple colors and brightnesses.  I own several of them, and I've been carrying their Backup model around in my pocket for a couple years now.
A few months ago I stupidly lost my Backup.  I don't want to go into detail on how I lost it, but it has to do with how my brain doesn't really work in the middle of the night when I get up to go check something out with my flashlight.  I miss that light.
Recently I bought a Surefire P2X Fury as a replacement for my old light.  It was more than twice as bright on its maximum setting and a little cheaper even, so I figured I should get one.
Models
The Fury comes in 4 different models:
Since I'm a theatre techie, I like the idea of having 2 different brightness levels;  low for general sneaking around in the booth or backstage, and high for when things really hit the fan and I just need to see stuff at the cost of being stealthy.  I chose the P2X Fury model.
Specs
Output (high): 500 lumens / 1.5 hours
Output (low): 15 lumens / 46 hours
Length: 5.4″
Bezel Diameter: 1.37″
Weight w/ Batteries: 5.7 ounces
Batteries: 2x 123A
Packaging
I ordered my flashlight from Amazon.  Their price was comparable to most other places, and they gave me free shipping.  It arrived fairly quickly despite the fact that I chose free (slow) shipping.
Here's what I got: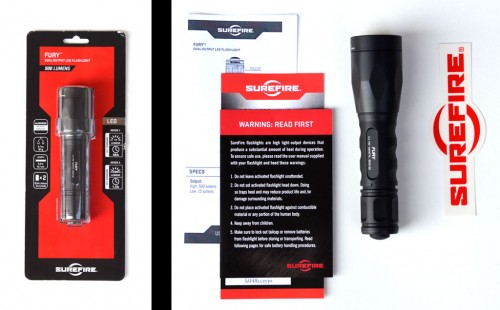 The package contained the flashlight, 2 batteries (installed), a manual, some safety information and a free sticker!
Build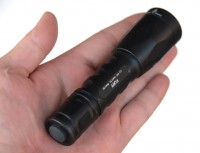 As you can see, the head is a little bigger than most of Surefire's other lights that are about this size.  I guess that helps produce a beam that makes this light count as a "pocket-sized, handheld searchlight".  It still fits in my hand nicely and is quite portable.
The construction looks and feels nice like all their other flashlights.  The body is made out of heavy anodized aluminum, and the window seems to be made of the same tempered glass that somehow manages to not get scratched up living in my pocket that their other lights use.  All the joints have o-ring or gasket seals, so you can use the light in bad weather without worrying about it getting waterlogged.
The button on the tailcap is the clicky type; press it part way for momentary on and all the way to make it latch.  The first press gives you low power (15 lumens), and if you quickly release it and press again you get high power (500 lumens!).  The button feels good, but it's recessed a little more than I'm used to, so sometimes I don't quite get it clicked on all the way.
This light doesn't come with a clip or lanyard, although there is a wide assortment of lanyards and holsters available that will fit it.
Power Source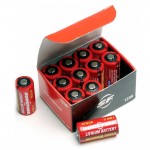 The P2X uses 2x Surefire-brand 123A 3V batteries.  Like many things in life, the first ones are free.
It takes quite a bit of power to run these bright lights, and Surefire is very adamant that you only use their batteries, or ones made by Panasonic, Duracell or Energizer.  Apparently there are cheap knockoff 123A batteries that either don't provide enough power or get way too hot.  I always just by the Surefire batteries by the box; the price isn't too bad and I don't have to worry about my pants catching fire.
Light Source
At the business end you'll find a single Cree XM-L LED sitting in the middle of a slightly textured reflector.  I looked up the specs on this bad boy and it's capable of putting out 1040 lumens.  Surefire is only driving it to 500, so I'm sure they wanted to provide usable battery life.  Heat dissipation may have also been a factor.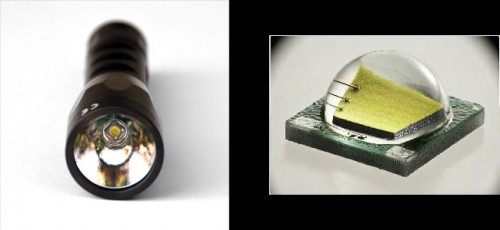 Color
The P2X Fury emits a white beam, of course, but not all whites are equal.  White can be warmer (lower color-temperature) or cooler (higher color temperature).  Think about how a light bulb in your house looks white at night, but during the day when the sun is out it looks kind of yellowish in comparison.  This is because the sun has a higher color temperature than the light bulb does, even though they both put out a "white" light.
The beam put out by the Fury is very uneven in color compared to most other LED flashlights I've used.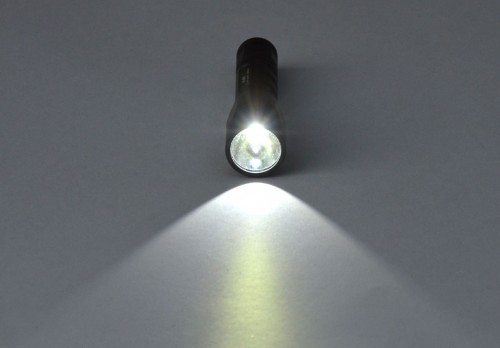 You can see that the edges of the beam are a nice white.  For reference, the areas outside the beam are lit by the sun in a shady area.  The color of the beam edges matches the sun fairly well.  In the center of the beam, however, you can see that it's fairly yellow.  This isn't a trick of the camera, either.  It's very obvious when you're using the light, on both low and high power.
This is caused by the way white LEDs work.  LEDs typically only emit one color.  Since white light consists of all the colors (or at least enough colors to make our eye think we're seeing white), they have to get the rest of them from somewhere.  To make a white LED, they usually start with a blue or UV one.  Then they add some phosphor, which gets excited by the blue/UV light, to make up the rest of the colors.  That's why white LEDs sometimes appear yellow when you look at them when they're off; you're seeing the phosphor.
In this particular LED, it appears the colors aren't mixing very well from all angles.  It's not a deal-breaker by any means.  It's just noticeable enough to mention.
If you want to completely change the color of the beam, Surefire offers an assortment of colored dichroic filters that clamp onto the end of the flashlight.
Performance
Enough staring at the flashlight itself.  How well does it work?
Click once and get low power mode.  This is actually a fairly good brightness for normal flashlight use.  When I had my Backup, I used low power mode most of the time.  This was partly because I wanted to save batteries, and partly because high power mode was just too bright for many things.  I wished it was a little brighter though (it was 5 lumens).  The Fury seems just about right at 15 lumens.
I like the fact that the low power mode comes on with the first click, as opposed to the second click with the Backup.  Now I don't have to click twice 90% of the time I use the flashlight.  (If you find this annoying and you just want bright mode, you can choose one of the other 3 models).
Click twice and get high power mode.  Great googly moogly is it bright.  It's way too bright for walking around your house in the dark.  It is, however, excellent for trying to see what's inside your hand.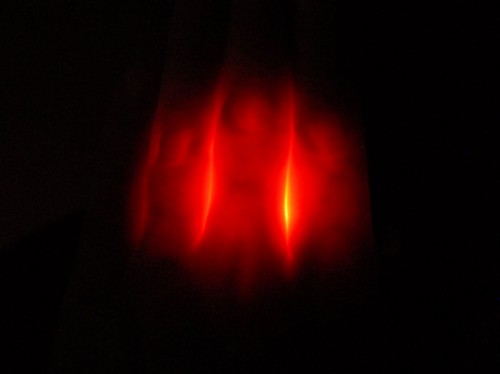 This gets warm after a while, by the way.  I suffer in the name of science!
It also lights up trees in the distance fairly well.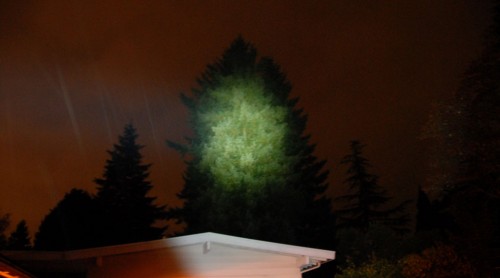 You can see the beam lighting up the moisture in the air in the left side of the picture.  Also, notice how even the very edge of the beam is enough to light up the neighbor's house. (Sorry about the fuzzy picture.  It was raining and I was trying to hand-hold everything while whining about getting wet).
Here are some almost-scientific comparisons of the P2X.  Note, in each group, the camera settings are exactly the same so you can get an accurate reference (no auto-mode here).
| | | | |
| --- | --- | --- | --- |
| | | | |
| 2xAA Mini Maglite | G2 Nitrolon | P2X Fury, Low Power | P2X Fury, High Power |
In the first picture, my assistant is being illuminated by a classic 2xAA Mini Maglite.  It looks orange because I set the white balance on the camera to daylight, and the Mag uses an incandescent lamp.  It's also very dim.  I did set the exposure on the camera to settings that would not be totally dark or totally washed out for any of my four tests.  Obviously this light falls at the low end of the brightness range.  Also notice how uneven the beam is.  This flashlight is focusable, but I never could get a perfectly round/even beam out of it.
The second picture shows my old Surefire G2 Nitrolon.  It's powered by the exact same batteries as the P2X, but it uses an incandescent lamp like the Mag (hence the orange color still)  It's way brighter than the Mag, though (65 lumens).  That's pretty bright, and even brighter than the P2X on low beam.  The runtime on this light is rated 1 hour, though.  That's not very long at all.  When I got this light I had the brightest flashlight of anyone I knew, but I went through a lot of batteries.  The beam on this light is nice and round and smooth.
The third picture shows our test light, the Surefire P2X Fury, on low power.  This is an LED-based flashlight, so the color is much cooler.  It looks almost pure white with the camera settings I was using.  It appears much brighter than the Mag, but not as bright as the G2 (which only lasts 1 hour, remember).  At this brightness you should get around 46 hours out of the P2X.  The beam is also nice and even and round. (Of course it is!  It's a Surefire!)  Note: It looks kind of dim in the picture, but it doesn't read like that using it in real life.  It's quite a bit brighter than the Mag.  I just had to set the exposure relatively low to make lots of room for…
High power mode!  The fourth image shows the Fury at full-blast.  Even using camera settings that caused the first 3 tests to be underexposed, full power all but washed out the image.  I had to squint while shooting it, and I saw a big purple spot in one eye for a few minutes.  The nice thing about this being an LED flashlight is that it's way brighter than the G2 even, but it will run longer (1.5 hours).
Summary
Overall I am quite fond of this flashlight.  It's a good size, it's flexible and it's well-built.  The dual-output design is a good match for how I use it in technical theatre, and I imagine it would work great for camping, search and rescue, finding frogs, blinding muggers, etc.
Pros:
Low power is a good brightness for most uses
High power is freakin' bright!
Small for the light it puts out
Tailcap switch is quite handy
Tough construction
O-ring seals keep water out
Cons:
Doesn't come with a clip
Beam color uneven
I don't really have anything to complain about with this light.  Okay, I know I complained about the color thing a bit, but if you're buying this flashlight then you're probably more interested in quantity than quality of light.  I wouldn't recommend using it to match paint colors, but if you want to pack a ton of light with you wherever you go and be the brightest kid on your block, you should definitely get the Surefire P2X Fury.
Leave a Reply