Haunting
May 20th, 2009
Updated for 2015!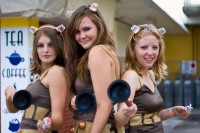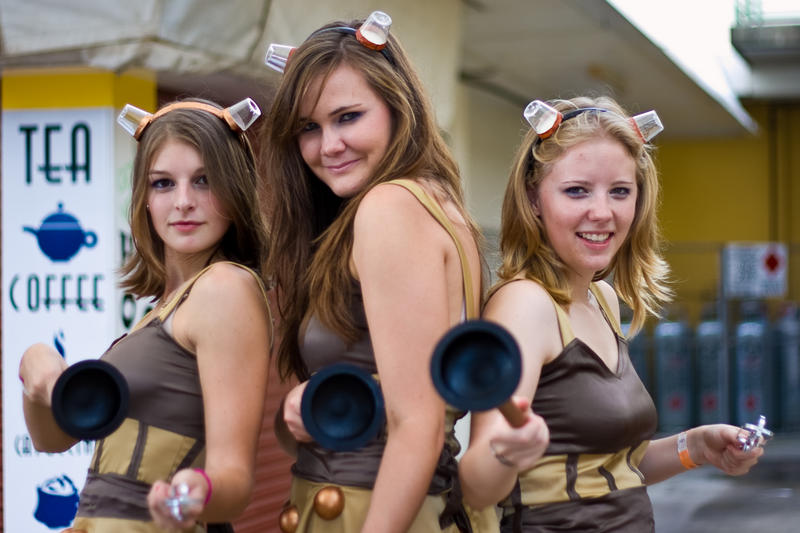 Geekettes, are you trying to figure out what to be for Halloween this year?  Are you tired of the same old choices at the party stores (slutty maid, slutty pirate, slutty nurse, slutty witch, slutty candy corn, etc.)?   We here at Modd3d have some true geek girl costume ideas for you.
These items were compiled by our crack team of costume designers and lovers of all things geeky.  Their instructions were to come up with a list of nerd costumes for girls, but not the kind with thick glasses and pocket protectors.  This is what they came up with.  Some are clever and fresh, some are old and cliche, and some are just plain classic.  You should be able to find something that suits your geek sensibilities here.
Dalek (Doctor Who)

Here is the costume that inspired this whole list: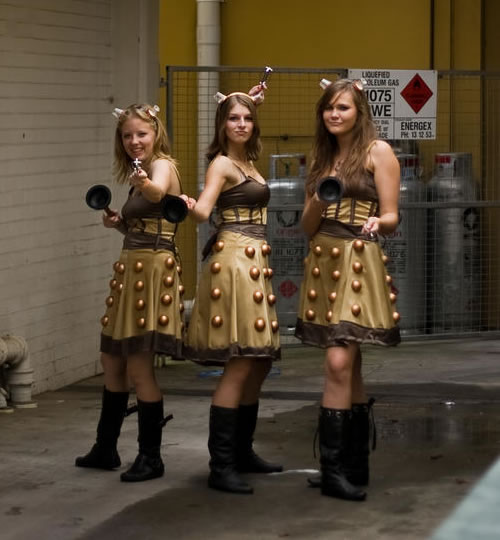 I'm not sure whether to high-five these girls for such a great costume idea or run away in terror.
The costumes wouldn't be too hard to make.  You need some dresses with Dalek-type attachments on them, a headband with two small plastic cups for the lights, and of course a beater and a sink plunger to carry around so you can exterminate!
Clara Oswin Oswald (Doctor Who)
Speaking of Doctor Who, you could always choose to dress as his latest companion.  Clara has been many people at many points in time, so you have quite a few options here.  She has long brown hair and seems to like dresses and tights, so that's a good place to start.  If you want to go obscure with your costume, she looked like a Dalek when the Doctor first met her (see previous entry).

Katniss Everdeen (Hunger Games)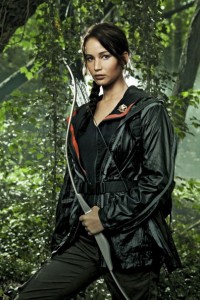 Whether you're going to a Halloween party or just want to hold your own Hunger Games in the backyard (please use Nerf arrows!), it's pretty easy to put together a Katniss Everdeen costume.  Wear a black V-neck shirt, a lightweight black jacket with a hood, some dark green cargo pants and some boots.  Make or buy a mockingjay pin (very important!), and carry a bow and some arrows.
Samus (Metroid)

Ah, Metroid.  The classic video game with the twist ending.  If you were a child of the '80s, you probably played it for hours on end not knowing that the main character was a girl (I'd have given you a spoiler alert there, but if you haven't heard this news by now then I can't help you).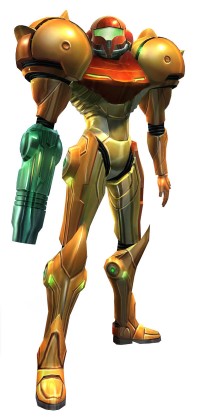 This costume involves a full suit of armor, so it could become a pretty big project to do it right.  Your friends would be very impressed, though, if you pulled it off.
Firefox Logo (Your Web Browser)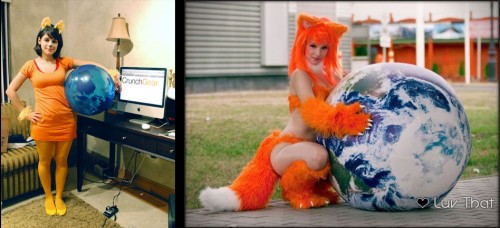 This was popular a few years ago, but about 32% of people still use FireFox.  Besides, the costume is simple and very cute.  If you're handy with the sewing machine, make yourself an orange fur suit (you can decide how much to cover).  If not, just wear something orange.  Get yourself an orange furry tail and ears.  Paint on a nose and whiskers.  If you want you can carry around a large inflatable globe or yoga ball.
Hit-Girl (Kick-Ass)
Tiny, foul-mouthed and able to kick much ass, Hit-Girl would be a good choice for a Halloween costume.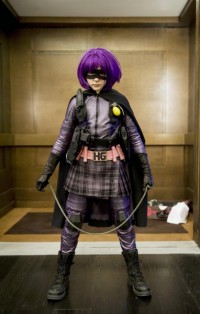 You'll need a purple wig, a mask, a dark purple leather jacket, a short purple plaid skirt, some dark purple leather pants with black knee pads, a utility belt with the letters "HG" on it, a cape, some gloves, a lot of attitude and some boots.  Most of the parts of this costume are pretty stylized, so if you don't feel like making everything, you can get the whole ensemble pre-made.
Quorra (Tron)

Speaking of skin-tight suits, it's pretty much a requirement for this one.  The fun starts when you attach EL tape to the suit to make it glow.  Buy yourself a Tron Identity Disc (or attach leftover EL tape to a black Frisbee).  Add a short black wig and some boots to complete the look.
Alice (Resident Evil)
Alice has had several different looks over the years that you can choose from, depending on what you have in your closet.  She'll need lots of guns, though, so you'll need to hit the toy store and probably an Army surplus store to pick up some holsters.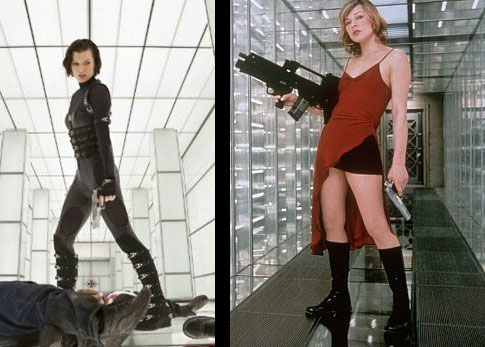 Leeloo (Fifth Element)
There are a couple of ways you can go with this.  If you're not likely to be going anywhere cold, you could wear Leeloo's white bandage outfit.  Start with a white bikini bottom and make the rest out of white fabric.  Some well-placed tape might be in order as well.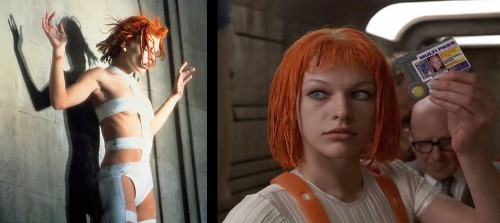 Later in the film, she puts on a short white ribbed shirt, some brown pants with black stripes and some weird orange suspenders.  Finding the suspenders is probably the hard part.  If you want to buy them, you can get vinyl ones at Three Muses or silicone ones at Kropserkel (they're custom made, so order early!)
You'll also need some shoulder-length orange hair to complete your Leeloo costume.  Don't forget your Multipass!
Princess Peach (Super Mario Bros.)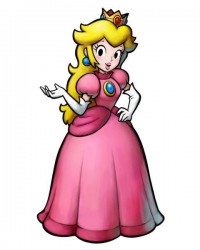 Kick it like it's 1986 by dressing up as Princess Peach.  Put on a pink dress, a blond wig, and hope Mario finally shows up at the right castle.
Catwoman (Batman: Dark Knight Rises)
The latest Batman installment has a unique take on Catwoman.  She has the black leather skin-tight cat suit and the boots like you'd expect, but she doesn't wear ears just for the sake of being a cat.  They're high-tech Catwoman goggles that kind of look like ears as she flips them up on top of her head when they're not in use.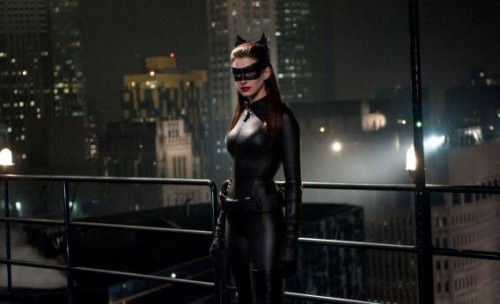 Kaylee (Firefly)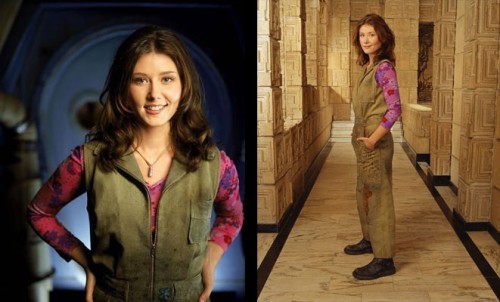 Firefly was unfortunately cancelled many years ago, but you can dress as Kaylee and join the browncoats this Halloween.  All you need are some brown overalls and a pink patterned shirt.  If you're going to a Halloween party, fix all the broken stuff in the host's house for added effect.
Liz Parker (Roswell)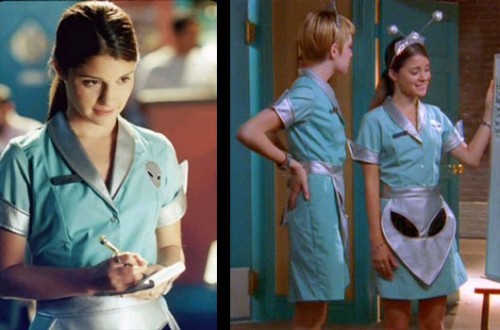 Okay, so this one is kinda old, but it's sure to make somebody say "OMG I remember that show!"  Don a Crashdown Cafe uniform and instantly transform into Liz Parker (or Maria DeLuca depending on your hair).
Pikachu (Pokemon)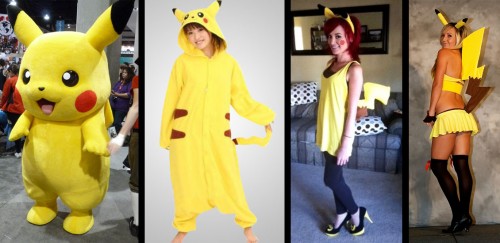 It doesn't get much geekier than Pokemon, and that incessant need to catch them all has kept them popular for a couple of generations now.
To dress up as Pikachu, there are a few basic requirements: Pikachu ears, Pikachu tail, a yellow outfit with brown stripes, and some red spots on your cheeks.  The "yellow outfit" part can vary quite a bit, and lets you pick any point on the spectrum between cute and sexy (or disturbing, or just plain weird- look it up on the Internets sometime!)
Lisbeth Salander (The Girl with the Dragon Tattoo)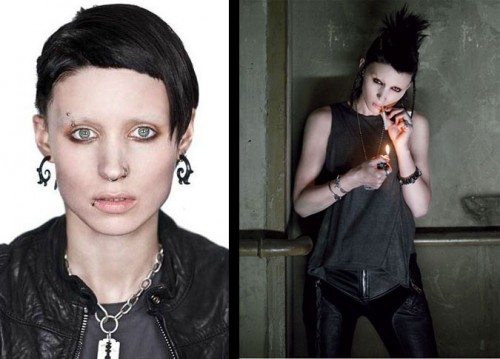 Lisbeth sported quite a few outfits in the movie, so it shouldn't be too hard to put this costume together.  The thrift store is your friend here.  Think leather jacket, combat boots, sleeveless shirts, hoodies, and dark, muted colors.  You'll probably want to get a wig instead of cutting your hair to match.  You can buy Lisbeth's earrings.  If you're really brave you can bleach your eyebrows to complete the look.  For the dragon tattoo itself, you can either find a temporary tattoo, or just ask your friend who is always drawing on you with a Sharpie whenever you pass out to give you a hand.
Amy Farrah Fowler (Big Bang Theory)
Amy is a neurobiologist and Sheldon's sort-of girlfriend.  The best part is that she's played by Mayim Bialik, who is a neuroscientist in real life.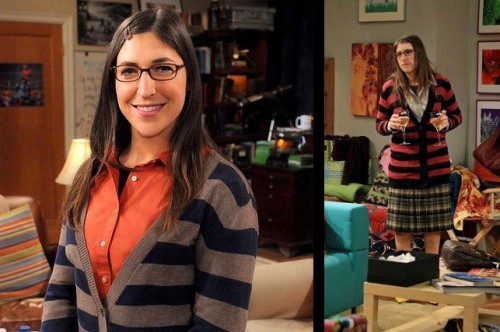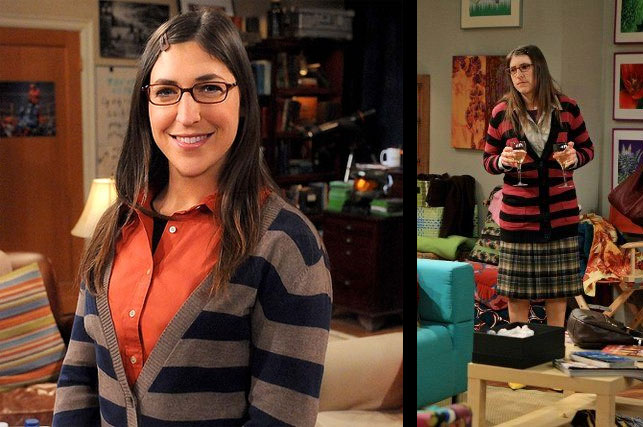 Amy likes to wear undershirts, button-up shirts with collars and cardigans.  She usually wears a skirt.  She has long, straight brown hair and wears glasses.   Accessorize with a satchel or laptop bag.
Captain Hammer Groupie (Dr. Horrible's Sing Along Blog)

Not the newest idea on the list by far, but super-simple and easily recognizable.  Pretty much all you need is a shirt with a picture of Captain Hammer on it.  Oh yeah, and willingness to do the weird stuff.
Dana Scully (X Files)

Dress up as everybody's favorite '90s FBI agent and help Mulder find the truth (because the truth is out there!)  Scully usually wears a white blouse and a black pants suit (or a skirt with a jacket).  She has red hair and wears a gold cross necklace.  You'll need to make an FBI badge to wear.  If you're going trick-or-treating, complete the look with a black trench coat and a 3D Mag Light.
Arrietty Clock (The Secret World of Arrietty)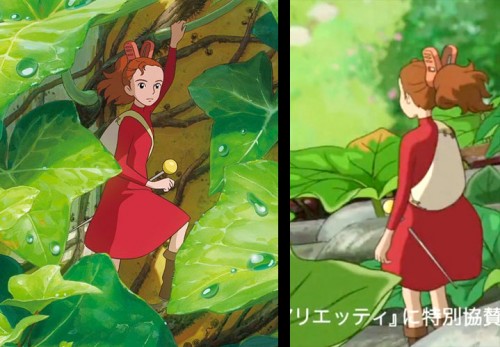 To look like Arrietty, the most important step is to be very tiny.  If that's not possible, wear a red dress, a big red clothes pin / chip clip in your hair, and brown boots.  Carry a brown bag and a giant straight pin (sword) around with you.  Also, avoid cats.
Agent Maria Hill (Avengers)
Of course there's an item on the list from Avengers, but you thought we were going to go with Black Widow and you were wrong.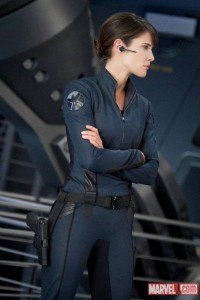 Maria hill wears a dark blue skin-tight suit (we tried to keep these to a minimum in this list, but sometimes it's difficult), a black belt, and a holster with a gun.  Put your hair in a bun and wear your Bluetooth headset and you're ready to go.
Penelope Garcia (Criminal Minds)


She's fun, she's got L33T skills, and she has so many looks that it would be pretty easy to be her for Halloween.  Think lots of color and accessories.
For the hair, go blond and add a streak of color.  You could also choose red if that's easier for you.  Put a big bow or flower in it.  Wear a dress with a brightly-colored shrug over it.  Accessorize with a big necklace and brightly colored glasses.
Isabelle (Hugo)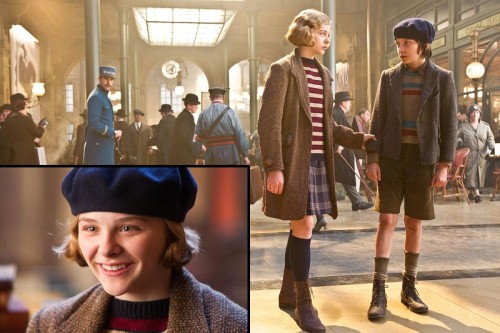 This list item isn't quite as geeky as some of the others, but the movie did have a robot in it.  To dress like Isabelle, wear a plaid skirt, a horizontally striped top (or whatever- don't be afraid to mix patterns!), boots, knee socks and a brown jacket.  She had shoulder-length '30s-looking hair and sometimes wore a beret.  Also, she had a friend with a robot.
Snow White (Snow White and the Huntsman)
Today's Snow White is much darker and grittier than her animated predecessor.  She wears kick-ass medieval garb and carries a large knife.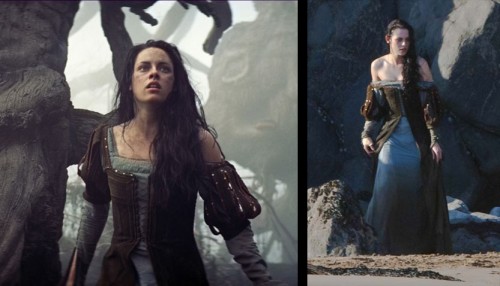 Merida (Brave)
While we're on the subject of stabby shooty princesses, Merida needs to go on the list.  This is pretty much a costume about giant red hair.  If anyone notices that you're wearing a green medieval dress too then you don't have enough curly red hair.  Merida's weapon of choice is the bow and arrow.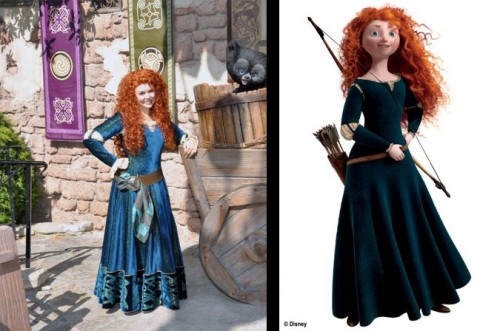 Selene (Underworld)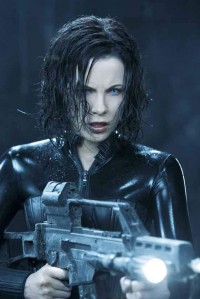 You need a skin-tight black suit, a gun, and… never mind.  I can't do these any more.  No more tight suit / gun costumes.  I promise.
Ermahgerd Girl (The Internets)
Here's something different.  Dress as a geeky meme for Halloween.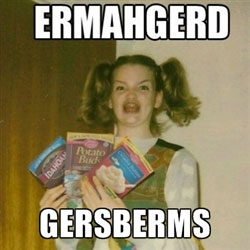 Put your hair in pigtails, wear an awful vest over an awful long-sleeve shirt.  Carry around Gersberms berks (Goosebumps books), or make a big cardboard frame with text of your choosing.  Talk like you're wearing a retainer all night.
That's the list.  Hopefully we've provided you with some inspiration for this year's geeky Halloween costume.  If you use any of these ideas, send us pics and we'll post them after Halloween!
25 Responses to "25 Halloween Costume Ideas For Geek Girls"
Leave a Reply