NES
January 9th, 2007
Emulators are great, but sometimes you want to go totally old-school and play 8-bit games on original hardware. This article describes a few problems commonly experienced by the NES and how to fix them.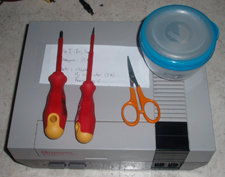 2 Responses to "Fixing a NES"
Jimmy Says:
November 12th, 2011 at 2:22 PM

Hey the link is broken. Can you correct it for us?

facebook fans Says:
October 20th, 2014 at 11:47 PM

Fantastic website you've got here, best content yet!
Leave a Reply